L'Asie attire chaque année de plus en plus d'expatriés. Le Ministère des Affaires Etrangères recensait près de 14 000 français expatriés à Singapour en 2016. Cela représentait une augmentation de 16% par rapport à l'année précédente. Et ce n'est pas une surprise lorsque l'on voit les résultats de l'enquête Expat Explorer 2018 par HSBC : Singapour arrive en tête des destinations préférées des expatriés.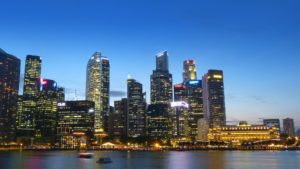 Mais encore faut-il pouvoir entrer sur le territoire. Voici un article présentant les diverses possibilités de visa pour Singapour.
Pour les étudiants français de moins de 25 ans, il existe également la possibilité de partir en PVT. Le programme vacances-travail est valable pour une durée maximale de 6 mois à Singapour. Cette destination étant très demandée, le pays n'accepte en PVT que les étudiants issus des 200 meilleures universités du monde. Cette décision se base sur le classement de Shanghaï, le QS World University Ranking et le World University Ranking du Times.
Pour faciliter vos démarches, Mondassur a listé les écoles françaises inscrites aux classements éligibles au PVT. Au 30 décembre 2018, les étudiants des universités suivantes peuvent donc demander un visa vacance-travail pour Singapour :
– Ecole Normale Supérieure (ENS), Paris
– Ecole Polytechnique
– Université Pierre et Marie Curie (UPMC)
– Université de la Sorbonne
– Université Paris Descartes (Paris 5)
– Université Paris Diderot (Paris 7)
– Université Paris Sud (Paris 11)
– Ecole Normale Supérieure (ENS), Lyon
– Université Aix Marseille
– Université de Strasbourg
– Université Joseph Fournier, Grenoble
– Université Grenoble Alpes
Pour les étudiants inscrits dans une école ou université singapourienne, le visa à demander sera le Student Pass. Il est valable pour la durée de votre éducation à Singapour et offre de belles possibilités.
Pour les étudiants de plus de 14 ans, il offre notamment la possibilité de travailler pendant les vacances scolaires si désiré. Pour les étudiants en université, il permet de travailler toute l'année à hauteur de 16h/semaine.
Ces données sont à prendre en compte dans le choix de votre destination : peu de pays autorisent les étudiants étrangers à travailler avec un visa étudiant. Or cela peut être un bon moyen de rembourser une partie de vos frais sur place.
Pour les étudiants souhaitant faire un stage de moins de 3 mois à Singapour, il existe le Training Employment Pass. Celui-ci n'est délivré qu'à condition que votre salaire soit équivalant ou supérieur à 3 000 SGD. (environ 1 915€)
Le visa de visite ou de tourisme
Première et bonne nouvelle, les ressortissants de l'Union Européenne sont exemptés de visa pour les séjours touristiques de moins de 3 mois
Les visas de travail
L'Employment Pass est destiné aux professionnels étrangers, cadres et dirigeants. Les candidats doivent gagner au moins 3 300 SGD par mois et avoir des qualifications acceptables.
Personalised Employment Pass est fait pour les professionnels étrangers gagnant un haut salaire. Le PEP offre plus de souplesse qu'un Employment Pass.
S-Pass a le même principe que l'Employment Pass mais concerne les candidats gagnant moins de 2 200 SGD par mois. Ceux-ci doivent répondre à des critères d'évaluation.
Work Permit for foreign worker est destiné aux travailleurs étrangers semi-qualifiés dans le secteur de la construction, de la fabrication, de la marine, procédés ou services.
EntrePass est valable 2 ans et renouvelable. Il est délivré aux entrepreneurs étrangers souhaitant créer une entreprise à Singapour. Des critères d'admissibilité doivent être respectés :
– L'entrepreneur étranger doit détenir au moins 30% de l'entreprise.
– L'entreprise doit être enregistrée en tant que Private Limited Company
– L'entrepreneur doit déposer une caution de 50 000 SGD auprès d'une banque singapourienne.
Les visas de regroupement familial
La durée des visas famille dépend de celle inscrite sur le visa de travail du conjoint. Il existe deux titres de séjour pour les regroupements familiaux :
– Dependant Pass pour les couples mariés
– Long Term Visit Pass pour les conjoints non mariés et les enfants célibataires de moins de 21 ans.
Si le conjoint bénéficiant de l'un de ces titres de séjour souhaite travailler à Singapour, c'est possible. Pour ce faire, il faut que l'employeur rédige une lettre appelée « Letter of Consent » et que celle-ci soit approuvée par le Ministry of Manpower.
Vous avez votre visa en poche ? Prenez votre assurance santé Singapour au plus vite !